Series A Serie A - ISO 7241 -A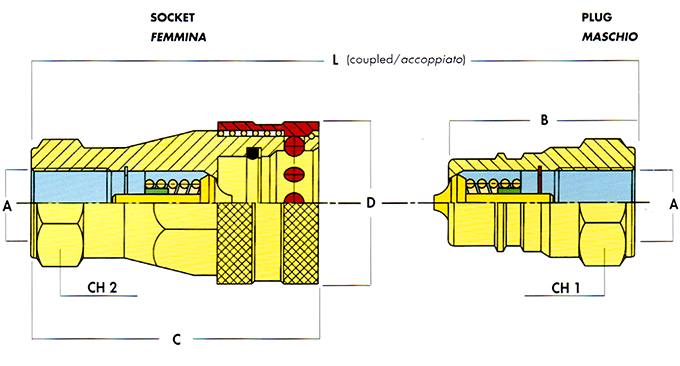 Dimension / Dimension
Size Base
øDN
Code/Codice
øA*
B
C
øD
L
CH1
CH2
mm
inch
PLUG MASCHIO
SOCKET FEMMINA
mm
in
mm
in
mm
in
mm
in
mm
in
mm
in
04
6
1/4"
AM10-04
AF10-04
1/4"BSP
35
1.38
47,0
1.85
25
0.98
71,0
2.80
19
0.75
19
0.75
AM15-04
AF15-04
1/4"NPTF
AM18-04
AF18-04
1/4"BSPT
06
10
3/8"
AM10-06
AF10-06
3/8"BSP
39
1.54
58,0
2.28
31
1.22
79,5
3.13
22
0.87
24
0.94
AM15-06
AF15-06
3/8"NPTF
AM18-06
AF18-06
3/8"BSPT
08
12
1/2"
AM10-08
AF10-08
1/2"BSP
46
1.81
67,5
2.66
38
1.50
92,0
3.62

27

1.06
30
1.18
AM15-08
AF15-08
1/2"NPTF
AM18-08
AF18-08
1/2"BSPT
12
20
3/4"
AM10-12
AF10-12
3/4"BSP
54
2.13
81,0
3.19
46
1.81
108,0
4.25
34
1.34
38
1.50
AM15-12
AF15-12
3/4"NPTF
AM18-12
AF18-12
3/4"BSPT
16
25
1"
AM10-16
AF10-16
1"BSP
62
2.44
96,0
3.78
55
2.17
124,0
4.88
41
1.61
45
1.77
AM15-16
AF15-16
1"NPTF
AM18-16
AF18-16
1"BSPT
20
32
1.1/4"
AM10-20
AF10-20
1.1/4"BSP
75
2.95
117,0
4.61
65
2.56
151,0
5.94
55
2.17
50
1.97
AM15-20
AF15-20
1.1/4"NPTF
AM18-20
AF18-20
1.1/4"BSPT
24
38
1.1/2"
AM10-24
AF10-24
1.1/2"BSP
85
3.35
135,0
5.31
80
3.15
171,0
6.73
60
2.36
60
2.36
AM15-24
AF15-24
1.1/2"NPTF
AM18-24
AF18-24
1.1/2"BSPT
32
50
2"
AM10-32
AF10-32
2"BSP
100
3.94
160.0
6.30
100
3.94
201,0
7.91
75
2.95
75
2.95
AM15-32
AF10-32
2"NPTF
AM18-32
AF10-24
2"BSPT
* Other threads available on request
Ulteriori filettature disponibili a richiesta
Main Data :
Series A is designerd to interchange and perform according to ISO 7241 - A standard. It is one of the most popular coupling design worldwide and is indicated for several mobile and industril applications.


■ Interchangeability according to ISO 7241 - A
■ Standard material :steel
■ Plugs treated with induction hardening
■ internal valves in hardened steel
■ Standard seals in nitril rubber
■ Back - up seals in teflon
■ Working temperature with standard nitril seals :-20°C / + 110°C
■ Special seals on request :Viton , EPDM , Neoprene
■ 1/2" plug and socket are also available in a special version allowing their connection in presence of residual back pressure.
Caratteristiche Principali :
La serie A ha intercambiabilitá e prestazioni secondo la normativa ISO 7241 - A. Si tratta di uno tra i piú diffusi tipidi innesto rapito a livello internazionale e trova applicazione su un'ampia gamma di attrezzature mobili e industriali.
■ Intercambiabilitá secondo ISO 7241 - A
■ Materiale standard :acciaio
■ Parte maschio in acciaio tempratoad induzione
■ Valvole interne in acciaio temprato
■ Guarnizioni standard in gomma nitrilica
■ Anelli antiestrusione in teflon
■ Temperature esercizio con guarnizioni standard :-20°C / + 110°C
■ Guarnizioni speciali a richiesta :Viton , EPDM , Neoprene
■ Gli innesti maschio e femmina da 1/2" sono disponibili anche in unaversione speciale che permette illoro aggancio in presenza di pressioni residue.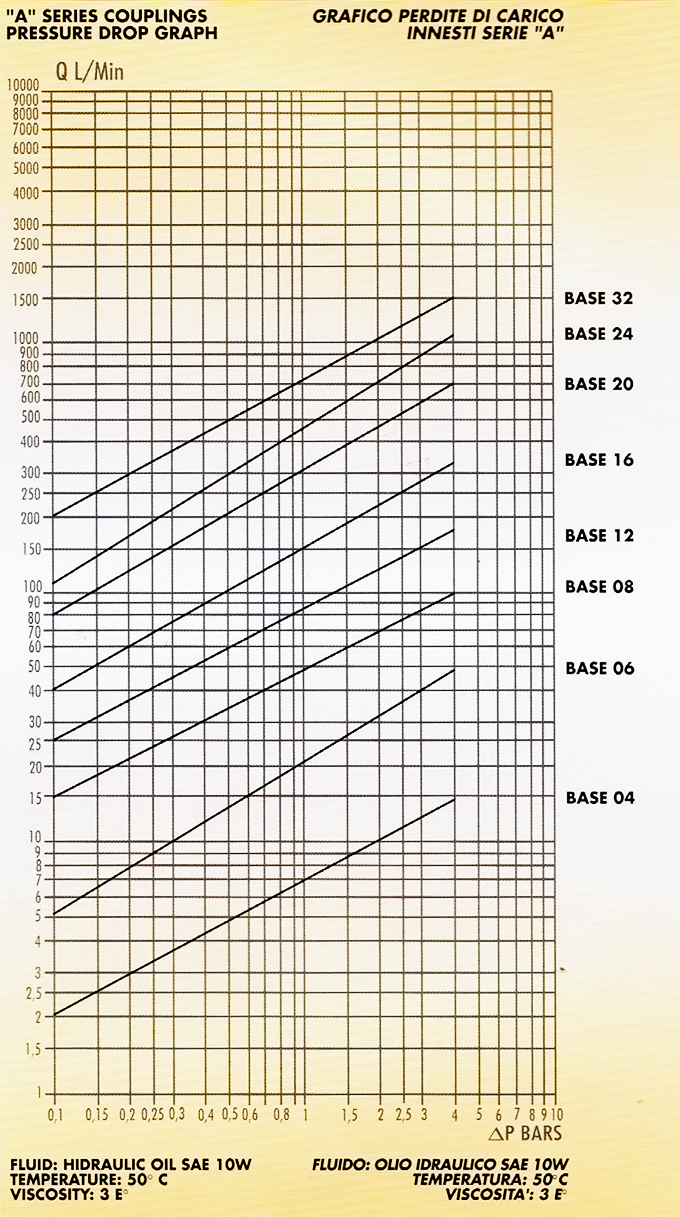 Size Base
øDN
Max.Work Pressure
Max Pressione Esercizio
Burst Pressure
Pressione Scoppio
Weight / PESO
Plug / Maschio
Socket / Femmina
mm
inch
bar
psi
bar
psi
kg
lbs
kg
lbs
04
6
1/4"
350
5075
1400
20300
0,045
0,100
0,080
0.18
06
10
3/8"
315
4567
1260
18270
0,055
0,122
0,150
0.33
08
12
1/2"
250
3625
1000
14500
0,090
0,200
0,270
0.60
12
20
3/4"
250
3625
1000
14500
0,185
0,410
0,465
1.03
16
25
1"
230
3335
920
13340
0,270
0,600
0,720
1.60
20
32
1.1/4"
230
3335
920
13340
0,600
1,330
1,250
2.78
24
38
1.1/2"
190
2755
760
11020
0,900
2,000
2,100
4.67
32
50
2"
130
1885
520
7540
1,450
3,220
4,150
9.22